Introduction to Rampant Style Kits
If you're new to Rampant Design Tools, welcome! This introduction to Rampant Style Kits blog posting is to introduce you to these great new elements, and show you why your $19 is money well spent.
That's right, I said $19. These Style Kits are an absolute steal. But, that does beg the question, "What is a Style Kit?" Style Kits were designed by Rampant Design Tools (RDT) to serve a specific purpose. To give you elements at your finger tips specific to the project type you're working on. Let me give you a rundown of the process, and how you can work with these elements. The first thing that's important for me to point out is that there are currently twelve categories of Rampant Style Kits (RSK). They are:
Sports

Love

Travel

Fashion

Social

Vintage

Fitness

Modern

Food

Business

Weather

Holiday
What you need to figure out first is, with the type of project you're working on, which RSK would work the best. Once you've figured that out, and made your purchase, you'll be able to download the RSK(s) that you've purchased, from your RDT account.
You'll notice that the downloads have been broken down into different categories, based on the type of elements provided in the specific RSK. This actually makes it very easy to organize on an external hard drive. I keep all my elements organized like you see below.
I then transfer this into my host NLE, whether it's Premiere or Media Composer or FCPX.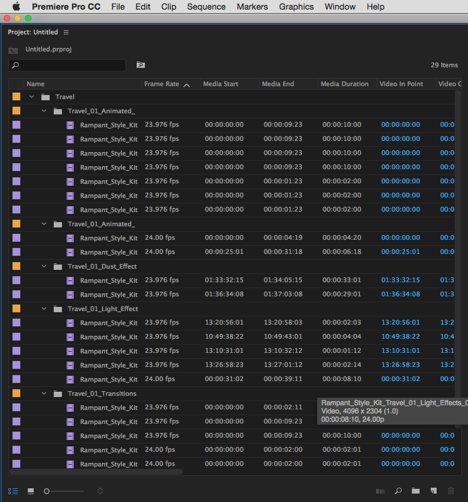 The next thing that's important for me to mention is that there is no right or wrong way to use these elements. There are times when you might get an element with one of the RSK's that looks odd as a single element, but that single element works amazingly well when combined with a couple other elements. You need to look beyond what's in front of you, to see the potential in each element. Something else that I also want to mention is that for your $19, you're getting all of your element at 4K resolution. That's huge, especially if you're working in HD. You can take the elements, that in most cases are twice the size of your frame, and manipulate them, and take one element, and turn it into many different possibilities.
Once you're ready to add these elements to your edit, simply import them in a way that will keep the native 4K resolution (for editors other than Media Composer editors, you can simply import them. For Media Composer editors, simply link to them, and transcode at 4K). Now, here's where the fun begins. You'll notice that when you downloaded your RSK elements, that they were divided up into different zip files, based on the type of element that it was. You'll be working with the RSK elements in one of two ways. If they are an element like a LIght Leak or LIght Transition, you'll be utilizing Transfer Modes (Add or Screen) to achieve the desired "burned out" look. Keep in mind that for Premiere and FCPX users, this command comes standard in the applications. For Media Composer editors, you will need a third party effect from Boris Continuum Complete or Sapphire to do this effect. The other type of element you'll be working with, is one that comes with an embedded alpha channel, meaning that it can be keyed over top of footage. There are a bunch of elements that work this way. I mentioned before where you'll get single elements that might seem odd on their own, but once combined with other elements, they come together to create something very cool. Below is an example of that.
The two scrolls on either side of the text come together to create a very cool end element. The other example of an element with an alpha channel that you'll need to work with is an animated transition. For these, you'll use the alpha element and a Track Matte effect (Matte Key effect for Media Composer editors), to isolate outgoing shots from incoming shots. Once you see how easy these elements are to work with, you'll be using them in just about every project you work on, as in many cases (depending on the speed of your system), they are real-time elements in your timeline(s).
Before we wrap up, I want to make sure that I remind you that there is a ton of great tutorials on working with the Rampant Style Kits over on the YouTube channel. If you haven't checked it out, you can watch a ton of tutorials on just about every product that Rampant Design has available, as well as checking out videos on the new Style Kits, and some very cool things you can do with them.
Now, in subsequent articles, we're going to take a look at each of the different Rampant Style Kit categories, and how they're going to take each project you work on, to the next level!
---
About the Author

Kevin P. McAuliffe
Kevin P. McAuliffe is a three time North American ProMax award winning editor and a Media Composer editor for over 15 years. He is a featured trainer at MacProVideo and is also one of the Senior Editor's at MIJO in Toronto, Canada, with current clients including Paramount Pictures, Warner Bros. Pictures, Walt Disney Pictures and E1 Entertainment to name a few. He can also be found helping out on the Avid Community forums in the Media Composer & Symphony Get Started Fast forum.
Check Out Kevin's Media Composer Training on Facebook:
https://www.facebook.com/LetsEditwithMediaComposer
Check Out Kevin's Media Composer Training on YouTube:
https://www.youtube.com/letseditMC_Avid
Follow Kevin on Twitter:
I'm interested on this but my business is Arts/Entertainment. I have a "Salsa" Band and my music is currently in Pandora, Spotify, CD Baby. I like the consept so creating something for lets say a "musical group" would be great. lmk if you do such a thing. Best Regards, Manny Cepeda Orchestra. www.mannycepeda.com